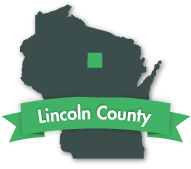 Lincoln County where you'll feel free to roam and relax.
Lincoln County is a great place for a vacation. With numerous lakes and more than 100,000 acres of public forest land, it's a place where you'll feel free to roam and relax.
The two main communities in Lincoln County are Tomahawk at the northern end of the county and Merrill at the south end.
Tomahawk is a thriving community situated at the confluence of the Wisconsin, Tomahawk and Spirit rivers. The community is surrounded by water and attracts sportsmen year-round.
Merrill is a historic community located on the banks of the Wisconsin River. The city boasts many historic public buildings and homes and offers plenty of small-town charm.
Lincoln County offers fantastic fishing. Visitors will find 726 lakes and 246 streams. The Wisconsin River near Merrill is renowned for its fishery. Some of the largest smallmouth bass in the state lurk in this section of the river. And the Prairie River has some of the best trout fishing in the state. Lake Alice, Lake Mohawksin, Lake Nokomis and Spirit Flowage offer some of the county's best fishing. Accessing these fishing opportunities is easy – you'll find ample river access in Merrill and more than 15 boat launches in the Tomahawk area.
Hikers can choose from the Underdown Recreation Area and Timms Hill, which is a 25-minute drive west of Tomahawk. The Tomahawk River Walk follows the Wisconsin River. Bicyclists can ride the Hiawatha Trail and the Bearskin State Trail.
Lincoln County is home to a number of excellent parks and recreation areas. Grandfather Falls Recreation Area in Merrill is a popular place for fishing and paddling. Council Grounds State Park in Merrill offers trails, fishing docks, a swimming beach and more. The Merrill Area Recreation Complex (MARC) offers large event space, indoor ice skating, several baseball fields, soccer fields and hiking trails. Tomahawk's Somo Avenue Recreation Area (SARA Park) also offers an indoor skating rink and a number of different sports fields. Swimming is available at SARA Park, Frenchtown Beach, Crystal Beach and Spirit Flowage Beach.
Lincoln County is a great place to go cross-country skiing. Ski the Underdown Recreation Area and Council Grounds State Park. Horseback riding is available at Chism Trail Ranch. Horses are allowed in the Underdown Recreation Area.
Lincoln County's snowmobile trail system is huge. Ride 315 miles of groomed trails through the forests, fields and hills of Lincoln County. The county's ATVing opportunities are awesome: in the winter, ATVers can ride 196 miles of groomed ATV trails. During the summer, a 50-mile ATV trail in the Harrison Hills connects with Langlade and Oneida county's ATV trails.
For challenging golf and wonderful scenery, head to Lincoln County. Area courses include Merrill Golf Club, Inshalla Country Club and Edgewater Country Club. Practice your swing at the Hillside Driving Range and brush up on your putting at Merrill Mini-Golf.
Don't wait – head to Lincoln County today!