ATVing in North Central Wisconsin
One of the best ways to experience North Central Wisconsin in the winter is by hopping on an ATV!
North Central Wisconsin is the land of lakes, forests, trails and friendly communities! Enjoy a unique blend of history, culture and recreational opportunities including hiking, biking, and ATVing.
Plan your trip today and come see for yourself the best views in North Central Wisconsin.
Florence County also offers more than 150 miles of outstanding ATV trails. Trails pass through miles of untouched forests and offer scenic overlooks and waterfalls. Snowmobilers can ride nearly 200 miles of trails within Florence County and link to many more miles of trails leading northward into the Upper Peninsula of Michigan.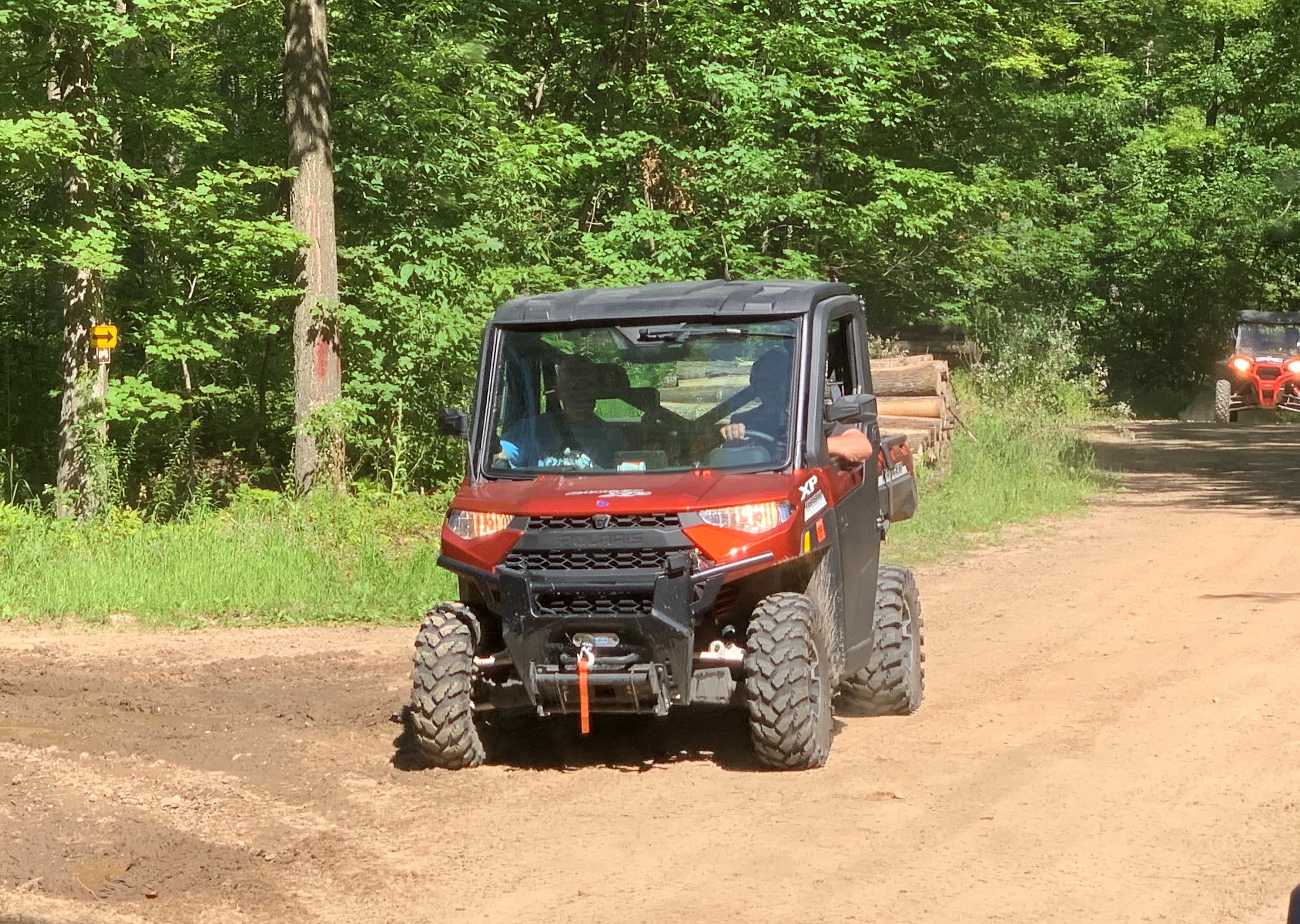 ATVers/UTVers love the 106 miles of ATV/UTV trails in Langlade County including the Augustyn Springs, Parrish Highlands, Pickerel/Pearson, and White Lake ATV/UTV Trails with additional miles of routes connecting these trail systems. The trails are very scenic and traverse glacial moraines, upland hardwoods, cedar swamps, and small rivers and lakes. The terrain is slightly rolling to very hilly. Trails link to the Lincoln, Oneida, Forest, and Oconto County ATV/UTV trails. For more information, trail conditions, or to request a Langlade County ATV/UTV Trail Map, click here.
The county's ATVing opportunities are awesome: in the winter, ATVers can ride 196 miles of groomed ATV trails. During the summer, a 50-mile ATV trail in the Harrison Hills connects with Langlade and Oneida county's ATV trails. For more information Lincoln County
Marinette County is ideally located in Northeast Wisconsin on the shores of Green Bay bordering the Upper Peninsula of Michigan. State and county parks provide restful, scenic surroundings to spend leisure time. Endless trails provide recreation for adventurers who desire to ATV, snowmobile, hike, bike and cross country ski. Over 230,000 acres of county forest land are available for hunting and exploring wildlife.
If you love the outdoors, you'll love Oconto County.  Oconto County is every outdoor enthusiast's dream! With the Nicolet National Forest in the north, the Bay of Green Bay to the east and hundreds of miles of ATV and snowmobile trails in between, there are endless opportunities for adventure in Oconto County. For more information, click here!
Discover the fun and easy way to get into the heart of the rugged beauty of Oneida County. Oneida County welcomes riders with two inviting trail systems—the Lynne/Little Rice ATV/UTV Trail and the Enterprise ATV/UTV Trail. Riders can also explore about 200 miles of woodland trails that are open to all motorized vehicles. Ride all day, or just long enough to get some dirt on your tires and a smile on your face.
Plan your Oneida County vacation today!
ATV/UTVing in the Stevens Point Area
In the Stevens Point Area, all county-owned roads are open to ATVs and UTVs, providing connections for neighboring county access. Not sure where to go? A helpful ATV/UTV map is in development and coming soon!
Want more? Find more fun things to see and do in the Stevens Point Area or order a visitors guide to help plan your visit.
Shawano County is a snowmobiler's paradise. Ride 400 miles of groomed and marked snowmobile trails. ATVs are allowed on most of these trails when snowmobile trails are open and the temperature is below 28 degrees. Embarrass River ATV Park in Tigerton offers 504 acres of trails and an exciting "Riverside Challenge Area."
Explore Biking in our County!
Nordic Mountain Summer Mountain Biking–9 miles of single track trails and these trails range from beginner level to expert level. Check out the
Waushara Area Mountain Bike Association for maps and information:
WAMBA Facebook Page
Nordic Mountain Winter Fat Bike Trails – 3 miles of single track trails available only on the lower Willow Creek section. Check out the
Waushara Area Mountain Bike Association for maps and information:
WAMBA Facebook Page
Road Biking Routes – Ride your ride on any of the established 10 routes throughout our county. You will see beautiful rural scenery ranging from  woodlots and wetlands to agricultural lands and small villages. All 10 routes will have directional signage by 2021. Check out our Bike Routes here:
Bike Route Books
Waushara Area Social Cycling – Join the Waushara Area Social Cycling page to find group rides and events available:
Waushara Social Cycling Facebook Page
Waushara County Parks – To learn more about our Waushara County Parks for other outdoor activities see our website at
Waushara County Parks
Come ride in Wood County!  42 miles of routes in local communities including Pittsville, Nekoosa, Saratoga, and Seneca and 17 miles of trails including the Wood County ATV Area.  Working hard to connect existing town routes and trail systems in adjacent counties, the newest addition is campsites in Dexter County Park specifically designed for ATV/UTV trail riders.
For more information in Marshfield, Visit Marshfield.  For more information in the Wisconsin Rapids area including Dyracuse Off Road Park, VisitWisRapids.