Snowmobiling in North Central Wisconsin
Snowmobiling is one of the best ways to experience North Central Wisconsin in the winter. Wisconsin has 25,000 miles of some of the best snowmobile trails, hundreds of which are rural trails in the northern and central counties. If you want some winter adventure, this is the place for you! Plan your trip today and come see for yourself the best views in North Central Wisconsin.
Here are more resources for you to successfully snowmobile in North Central Wisconsin:
Season: Snowmobiling season is December 1st – March 31st. Note: This is subject to change depending on trail closures and weather conditions.
Safety: Smart riding is safe riding. Choose to slow down, be alcohol-free, and ride with others following these rules, too. First time snowmobiling? Take a safety class!
Rentals: Looking for where to rent snowmobiles? See below for each county's information about snowmobiling rentals based on where you are visiting in the state.
Trail maps: See below for each county's specific snowmobile trail maps based on where you are visiting in the state.
Snow report: Check this interactive snow report before you hit the trails. Some trails also allow ATVs at certain temperatures.
Wisconsin DNR regulations & laws information: trail pass requirements, registration types, & more. If you are renting a snowmobile in Wisconsin and staying on trails in Wisconsin, you do not need any additional registration or trail passes. But it's important to do research before you go.
Some of the major cities in the region that are recognizable for snowmobiling are Tomahawk in Lincoln County, Shawano in Shawano County, and Antigo in Langlade County.
But there's plenty more to explore!
Where to go Snowmobiling in Wisconsin: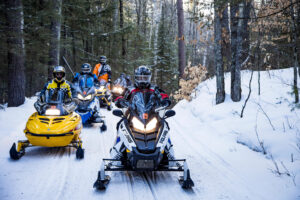 Snowmobilers can ride nearly 200 miles of trails within Florence County and link to many more miles of trails leading northward into the Upper Peninsula of Michigan. Find more information here.
Snowmobilers can enjoy adventuring through endless miles of snowmobile trails and connect to trails in bordering counties to create the perfect riding weekend. See more about trails and conditions.
Snowmobilers can enjoy nearly 500 miles snowmobile trails, including the Nicolet National Forest, and the Bay of Green Bay. Oconto County is every outdoor enthusiast's dream! Snowmobile trail reports & information.
Oneida County is one of the best places to go for a good time on the trails. Ride as much or as little as you want—you'll find plenty of great scenery and trailside spots to warm up and relax. Snowmobilers can ride more than 1,000 miles of outstanding Oneida County snowmobile trails. Thousands more miles of trails stretch across northern Wisconsin and into the Upper Peninsula of Michigan. Groomed nightly, Oneida County snowmobile trails rank as some of the Midwest's finest.
Snowmobilers can ride 400 miles of groomed and marked snowmobile trails. ATVs are allowed on most of these trails as well when snowmobile trails are open and the temperature is below 28 degrees. Get a copy of the snowmobile trail map here. Find conditions reports here.